When the sun goes down and the lighting dynamics shift, you need a camera well equipped to see through the dark. This changes the game since a handful of average security cameras lack the technology to capture clear images at night.
And just because the HD quality is seemingly high is no guarantee that it will deliver as expected, you don`t want a security camera with thermal imaging where you can`t even distinguish figures properly.
Luckily, there are night vision security cameras, the perfect remedy to nights or areas with low illumination.
They are built with infrared technology and as such can produce defined images even in the absence of natural sunlight. 
What is the best night vision camera?
We all look for different specs when purchasing security cameras, but at a minimum, your night vision security camera should deliver quality images, have a wide field of view, and be robust enough to withstand the elements.
In our guide today, we'll be sharing 2 top of the line night cameras that you might want to take a closer look at and perhaps, put your money into. 
Read along. 
How Does a Night Vision Camera Work?
The science behind night vision cameras is rather simple- seeing what the human eye cannot. And unlike what you may think, these are not exclusively designed to operate during the dark, not in all cases anyway.
A high-end security camera
doubles up for both daytime and night, provided it is equipped with superior LED technology. You do not need two security cameras for different times of the day.
What draws the line though for regular cameras rendering them unfit for low light operations is the absence of built-in IR (Infrared) LEDs.
Without this accessory, the camera would only capture pitch dark images,(know those images captured in most parking lots?) with no facial recognition whatsoever.
Such Cameras may turn out to be useless as images are grainy and hard to distinguish.
The number of inbuilt infrared LEDs also makes a difference.  As you can imagine, the more they are, the more discernable the footage.
This is why premium cameras fetch a higher price tag than what you would normally cash out. It's because you are buying high-resolution black and white images.
Some advanced devices go the extra mile to include color night vision. And this makes it even better. Of course, you cannot compare night coloring to that of day, but it comes in at a close second.
Even so, if you don't have the budget for a camera that combines the two, clear black and white images suffice for a domestic security cam.
It's worth pointing out that IR or night vision cameras come with an IR cut-off filter. Its work is to sensor infrared wavelengths during the daytime, only limiting this kind of lighting to darker hours.
During the day, therefore, natural light is predominantly allowed to pass through the lenses, after a certain point which the filter gets in the action.
This automatic shift is sometimes referred to as True Day and Night (TDN) because it captures true color images during the night and black and white when it's dim.
You may like
Choosing the Right Night Vision Security Camera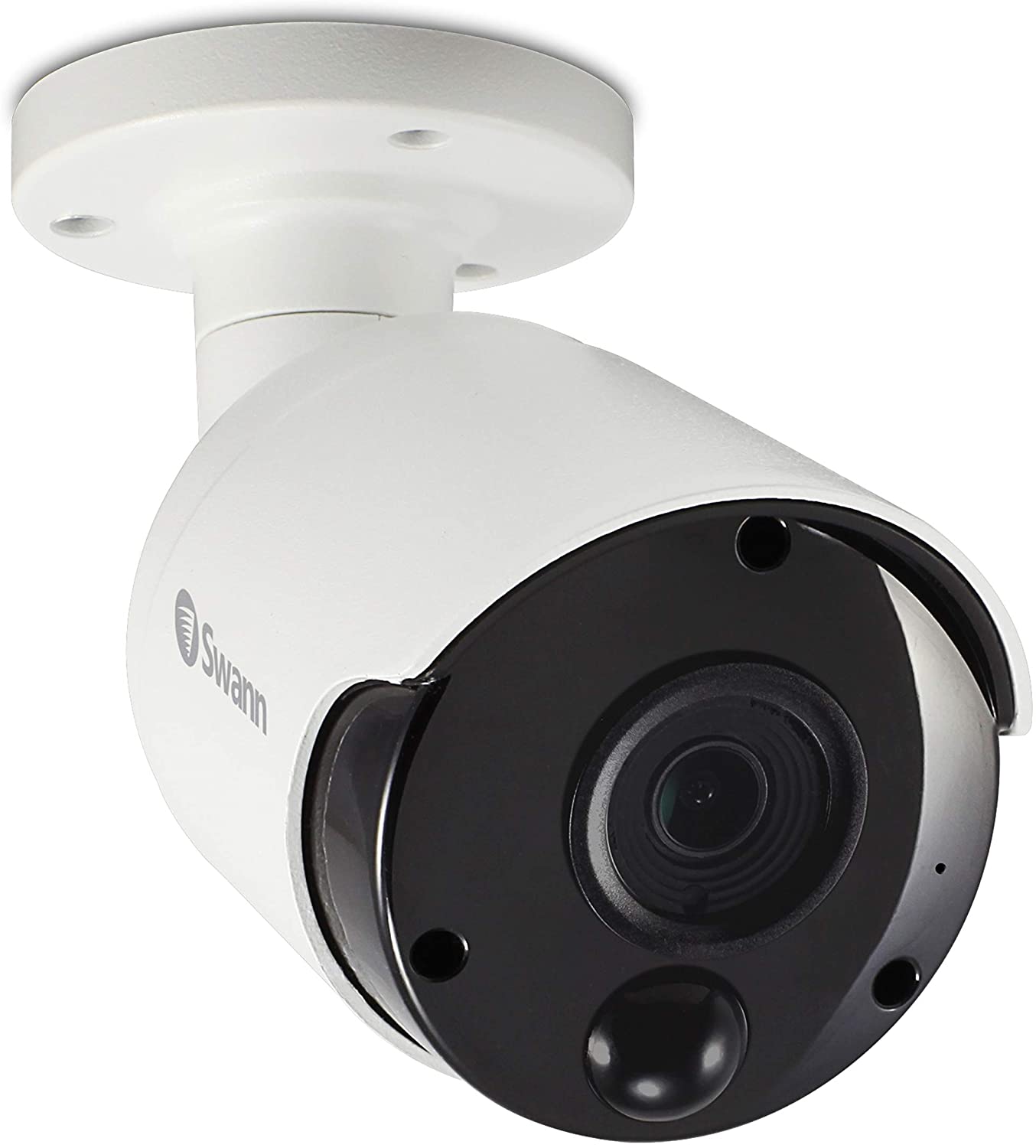 Thanks to technology, there are a bunch of options for prospects looking for a night vision camera. But just because it has the label or an outrageous price doesn't mean it's a correct fit.
There's more than meets the eye, and if you're a candidate for such a device, it might be worth your time to consider a few specs. 
For starters;
This is different from wide-angle lenses. It associates more with just how far into the frame your camera can reach.
Have you tried buying a camera with seemingly great specs only to discover that it has a shallow rage? Well, if so, you must know how frustrating it is.
To avoid this pitfall, have a test trial of the device before exchanging your hard-earned money. If not possible, then compensate with a keener look at the specs to get an idea of this aspect.
On average, a premium night vision camera should offer about 150 feet of viewing or more.
With this kind of range, it doesn't matter how far back the object or subject is, you can bet you'll still get a pretty decent shot and one that's discernable too.
Sometimes distance is not always the problem. Other times it's that the object got too close and became overly exposed.
This is known as the white-out effect. And even the most admirable of night cams fall prey to it.
This is why it makes sense to not just get a night vision camera but an upgrade to dynamic smart IR models.
They are built to balance distance with the proper exposure such that even at an arm's throw, the illumination level is not too overwhelming.
2 Best Night Vision Cameras
Now that it is clear not all devices are created equal, I took the time to sift through some top-of-the-line devices before settling for these two.
There are a few contrasts including price but that aside, each has unique characteristics admirable for a night vision camera. 
The Swann Bullet is one of the few cameras that combine dynamic technologies to provide an excellent recording in shadowy areas.
By this, we're referring to infrared lighting, thermal vision, coupled with low light technology which all add up to deliver colored images on the go. 
As such, consequent surveillance footage is distinct and polished.
Onto other features, the camera has a commendable 75-degree lens angle. Not the best width for a wide-angle shot, but it allows a 115-foot view distance.
It has a good IP rating as well (IP65) thus making it ideal for outdoor weather. Plus, the two-way audio makes communication quite easy. 
Perhaps the downside is that it is only compatible with the Swann NVR system which is purchased separately. In the long run, this could drive up the initial 100-dollar cost that only covers the camera. 
Pros
Offers a 30-day money-back guarantee + one-year warranty.

Heat and motion detection

Relatively affordable

Wide view range

Combines infrared with thermal technologies
Cons
Limited field of view

Limited to a Swann NVR system to fully work. 
generally squares up as an all-around camera that happens to have excellent night vision qualities as well.
It comes bearing a hefty price tag enough to scare a handful of buyers. Unless you have a 400 – dollar budget for a security camera, you wouldn't so much as consider it as an option. 
The flip side to it, however, is that the package comprises cutting-edge features worth your money.
For starters, the camera offers 1080p HD quality recording 24/7. Add this to the 130-degree wide-angle field of view, plus12x digital zoom, and you have yourself a state-of-the-art outdoor camera.
As far as weather handling goes, the casing is built to handle a temperature change of between -40 and 113F.
This translates to a much longer lifespan even with bad climate. Thanks to the infrared sensors the model is apt at night LED lighting and does a phenomenal job at it. 
You would need a subscription plan to the Nest Aware service, otherwise, you stand to lose out on cloud storage as well as other exclusive features. 
Pros
30-day money-back guarantee + two-year warranty. 

30-day free trial of the Nest Aware subscription.

Up to 12x digital zoom enhance

Two-way audio with noise cancellation

Close up tracking view

Wide field of view
Cons
Expensive

No local storage
You`ll be pleased to know Google Nest Cam has over 7000 positive reviews on Amazon and scores 4.5 out of 5 stars. You can check user reviews here.
Conclusion
Depending on what you're looking for in a night vision camera, the above models are a great start. Find the latest prices on Amazon and get ahead of your security detail with first-class devices.