What are the best battery-powered Christmas lights on the market today? let`s take a look at different products and find you exactly what you need because going green this season with eco-friendly options that won't break the bank is what you need to be doing.
If you're looking to add some holiday cheer this season, we've found the best options for illuminating your Christmas tree or swathing an entire home in lights.
But before we get to Christmas lights, we`ll have to answer one question you might have:
Can You Really Power Christmas Lights With Batteries?
The answer is a resounding yes! For years, people have been using batteries to power their Christmas lights.
The most common form of battery-powered decoration is the fairy or LED bulb because they last much longer than traditional lightbulbs and don't produce as strong an output.
These Batteries-operated Christmas lights are popular with homeowners who want shorter strands across larger areas without having multiple outlets needed for decorating all at once.
There are hundreds upon thousands of combinations you can use: from blinking orbs on tree branches downstairs (perfect if hiding your cables in plain sight)to stringing out individual shapes around bushes outside the front door.
Snowflake Decorative String Lights
This comes as my number one choice because it`s not only a Christmas decoration light but you can use it in different places on different occasions.
It`s suitable for Christmas trees but will look brilliant in any dining room, garden, fireplace,  stairs railing, a Christmas party, you can even use it for wedding decoration or give it as a present, this an all-round Christmas light that`s also budget-friendly.
Now it`s worth mentioning that these may be too harsh for the bedroom but works well for the other rooms in your house. For those who want to go to sleep feeling that Christmas spirit without turning off the light, check our other recommendation below.
Abkshine Battery String Lights
Perfect for your Christmas decorative project. They come in delicate warm white 50 LED Beads on a 16 FT flexible original copper wire, the writes are so light and flexible you can literally create any shape you want.
If you want to decorate mason jars with some lights, these are your go-to as they are so easy to maneuver even in small spaces.
they are also soft enough to put in your bedroom without them feeling too harsh. Comes with a remote control so you don`t have to go out to turn it on/off.
You may like
Best outdoor solar-powered Christmas lights.
A low consumption, energy-saving Christmas light. The reason this makes for the list is the possibility to use a timer so the lights are off when you don`t need them, it`s waterproof so there is no problem leaving it outdoors.
The soft illumination makes it suitable for indoors just as outdoors(no harsh lights).This makes it a must-have for those who are looking for the best battery operated Christmas lights with a timer.
Forget boring(although I don`t remember any Christmas light ever being boring). This is for anyone who wants a burst of colors.
This is not only limited to Christmas but it`s a light you can use all year round no matter what the occasion.
With 300 LEDs on a 132 -foot long strand, your tree will be eye-catching from any angle you look at it.
Again this works on a time so when you don`t need it on, just time it to go on and off when it suits you. With the energy-efficient timer mode, you can leave it for 6 hours nonstop. Want a multi-colored Christmas light, Quntis got you covered.
Whether you have a spacious home or are limited on space, we've found the best and most reliable options for lighting up your tree with color.
From LED lights that will last all night long to incandescent bulbs suitable even if they're old stock from before Christman came around; there's something here everyone can use!
Christmas Snowflake LED Pathway Lights
 Turn your courtyard and the front gate full into a winter wonderland. These add an interesting touch to any Christmas house decoration.
Let your Christmas house become different this year, with the beautiful glowing snowflake LED pathway lights winter nighttime peace is guaranteed.
These attractive, battery-operated Christmas lights will bring an enchanting wintery feel to any outdoor space!
Add a little extra magic to your outdoor decor this season. They're perfect for the holidays or wintertime, and they come with 10 long ground stakes so it's simple to get them installed! These come in lights are warm white colors.
This innovative yet eco-friendly light is the perfect way to make your home feel Christmassy without spending a fortune on electricity bills.
Simply install batteries and you're ready for hours of enchanting Christmas décor!
For those who are looking for an eco-friendly, water-resistant and easy installation light then look no further.
This battery-operated string of lights can be used all year round for other occasions without the need to worry about an electric socket!
You may like: The best outdoor solar-powered Christmas lights
LED Or Incandescent Christmas Lights?
Although both LED and incandescent string lights come in a variety of colors, there are some minor differences.
LED Lights
LEDs don't "burn out" or fail, they just get dimmer with time. These lights become 30% less bright over their lifetime and it's not always clear when this will happen because the light output can change gradually rather than suddenly fading away as a bulb would.
So there are some warning signs you might want to look out for if your lights seem dimmer than usual, but other times these issues may go unnoticed. Other points worth mentioning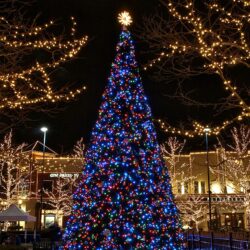 Less energy consumption compared to incandescent bulbs.
Last longer: LEDs are rated up to 100,000 hours.
Burn at a lower temperature.
Come in both warm- and cool-glow varieties.
Incandescent Christmas Lights
They are perfect for both indoor and outdoor use. They have the ability to work with a wide range of other devices, like dimmers or photo sensors so you can even control when they turn on!Other points worth noting:
More affordable compared to LEDs.
Have a warm glow.
Types of Christmas Lights
Battery-Operated Lights:
As the name suggests, you don`t need any electricity for these making them a good choice for places that aren't near a power source like in the shrubs or mason jars.
Net Lights: these come already strung into forms, all you have to do is hang them where you want.
Mini String Lights: Just as the name suggests, these are mini, usable in delicate places like hanging on the curtains.
LED Projection lights:
The quickest way to get that merry feeling, these require no installation and are a brilliant alternative to traditional string lights.
Plug into an outlet, point them to your Christmas trees, outdoor trees and you`re ready to go, decorative lights and instant vibrant colors in minutes.
What Are The Best Christmas Lights To Buy?
The best Christmas lights to buy are those that will make your home come alive with a magical and memorable experience.
There is no one size fits all when it comes down choosing which type or brand of artificial lighting you should go for; as such, there's an endless number of options available!
Types Of Christmas lights for your needs:
Christmas lights are to be admired, not hated so choose right! There is nothing like the twinkling of a light display during this festive time.
The best types for you will depend on your home and what type of décor it has, in order to create an appropriate ambiance that suits its aesthetics while still being festive enough.
A few popular options include strand bulbs (which usually come as sets), LED panels/pillars for wreaths with candles stuck onto them.
One or more things worth considering though?
Budget:
The higher-end brands cost more but provide better quality products so if money isn't really something on hand just know where these brands fall into their price ranges.
But Budget Christmas lights can still give that magical feeling. It`s not always a matter of splashing out.
Colors In Christmas Lights
Unlike in the past when battery-operated Christmas lights were limited, today Christmas lights come in different colors ranging from white, multi-colored to Pink or purple(not my thing but it`s good to know there is something for everyone).
What Color Christmas Lights Are Right For Me?
For indoors, white (in my opinion) is the most popular. For outdoors warm white Christmas lights can be used to create an elegant look at any place you like, they just work everywhere. Colored Christmas lights work better outdoors.
Generally, incandescent Christmas lights are powered using C or D batteries, while LED Christmas lights are powered using AA or AAA batteries.
Now this will greatly depend on your Christmas lights, but generally Incandescent Christmas lights(again depending on light size) you should use either C Batteries. Or in some cases D batteries.
Conclusion On The Best Battery Powered Christmas Lights
There are so many Christmas battery powered lights in the market today you may get confused but the best battery-powered Christmas lights should:
Not require a lot of assembly time.
Be affordable.
Come in acceptable colors.
should last long without the need for replacements.
In order to get your desired effect, it's important for you as the buyer (or potential customer) in terms of what kind of style you want?
sources: https://www.energystar.gov/