Security is among the essential pillars that make up a home. It makes you rest easy when your possessions and the people you love are secure and well protected.
We`ll look at some of the best wireless home security camera systems in the market so you are better informed.
To beef up your home's security, cameras come in handy. And not just any cameras, those that can provide a seamless 24-hr clear surveillance and can be accessed at any time, anywhere you are. Wireless Home Security Cameras perfectly fit this description.
Now the Best Wireless home security camera system reviews might concentrate on different aspects, that's why you mostly read different reviews for the same product.
We`ll look at affordability, ease of use, and everything to settle on the best wireless home security cameras that allow you to watch the inside and outside of your home from anywhere.
1-No Wires–
The main disadvantage with the earlier models of security cameras was the many cables involved. Reportedly, criminals would sneak into a home and first snip them thus disabling part of the whole surveillance system.
The fact that the cables could hardly be hidden from plain sight only made matters worse. Wireless cameras, therefore, save the day as they are a much reliable and safer option with no wires for criminals to tamper with.
2-Flexibility –
Wires may dictate where you should or should not place your cameras. With these wireless cameras, that is not an issue.
You can place them anywhere and move them to different locations as often as you desire. You also need not worry about finding a location with a power outlet.
3-Secure and Reliable Footage –
You can save this camera's data to the cloud as soon as it records. This makes the data completely safe and still accessible in case anything happens to your cameras.
Besides, these cameras use high technology and fist – rate encryption thus protecting them from hackers and criminals.
4-Reliable Power Source –
Most wireless home security cameras do not need a power outlet as they are equipped with an independent power source. This enables them to continue working even during power outages.
Remote Accessibility –
Thanks to their advanced technology, you can monitor your home anytime and wherever you are – even while on a long vacation. This can be done on a laptop, tablet, or phone.
Check out top-rated security camera here
Now that you know the unique features that wireless home cameras offer, let's review the crème de la crème in the market to help you acquire the best pick for your home.
Your choice should be dictated by your budget, where you intend to use the camera, and flexibility needs among others because with the best wireless home security camera system reviews, in general, may not cover individual needs.
Let's dive right in, shall we?
Best Wireless Home Security Cameras
 – Budget Friendly
If on a budget but still seeking a great quality security camera, the Ring Stick Up Camera is your best bet. It costs less than $100 making it worth your while – considering the features it spots.
To give you a deeper insight, the camera can be used both outdoors and indoors and is powered by a quick-release removable battery pack.
To monitor your home from the comfort of your couch, you can connect it to Alexa. Notifications shall be automatically sent to your phone whenever any motion is detected.
We have an in-depth post here on Alexa in case you missed it.
You can monitor your entire home through one or multiple stick-up cams by connecting them on the Ring app. The camera's video quality is 1080p HD which is quite clear.
It works effectively during day and night, and backs up the recorded data on the cloud at a cost of $3, every month, for 60 days of storage.
Click here to view Ringstick up Cam
Now every product on the market does have some deal-breakers or weak points, so we`ll look at the positives and maybe some things that could be proved upon.
Pros
Pocket Friendly
Can be used both indoors and outdoors
Works with Alexa
You can connect one or multiple cameras to the Ring app for easier monitoring.
Clear videos
Cloud storage
The batteries can hold power for weeks.
Easy to set up and manage
Cons
Can be tedious to recharge its batteries
Paid cloud storage
The selling factor of this camera is its completely wireless nature in that you do not need a power cord to use it. With a set of batteries, you are good to go.
It is easy to set up the camera and produces top-notch video quality. Its 2K Video and infrared night vision enable it to record clear videos whether indoors or outdoors, day or night.
It is equipped with a magnetic wall mount that can be fixed anywhere you would like to monitor.
All its data is backed up in the cloud at a relatively affordable monthly subscription fee of $2.99. An Arlo app comes in handy to help manage and control the camera from your phone. You may also use Siri on your iPhone to run it.
You may like 
Outdoor motion-activated security camera
Pros
Wireless
Clear quality videos
Backs recorded data in the cloud
Can be run through the Arlo APP on your phone
It works with Siri
Doesn't require a base station
Can be used both indoors and outdoors
Con
You may need to recharge the batteries time and again which can be tedious
Paid cloud storage
Expensive(now this is not really an issue for those with the budget and do not put a price on their security.
Reolink 3 Argus Pro – Solar Powered
If the idea of recharging a camera's battery time and again puts you off, then a solar-powered camera may save you the trouble.
The Reolink solar camera can either use a rechargeable battery or solar power.
During summer you will not need to charge the batteries, thus giving you a break. If the sunshine is sufficient, the batteries may store up enough power to get you going for a few weeks or months into other seasons.
This boosts its flexibility allowing you to place the camera anywhere you like. You can use the camera either indoors or outdoors.
It, especially, proves its worth in areas with limited internet or Wi-fi access. With its 2k video resolution, you can take clear images and videos. Its starlight night vision gives you clear images up to 33 feet away during the night – even without extra ambient light.
Recorded data is then stored in a Micro USD. The camera can also back up its data in the cloud, but this feature is not as enhanced as in the above two models.
To get the camera working, you are first required to put in a SIM card and activate it. You can then download the Reolink app from your play store and use it to control your camera and monitor your surroundings.
Pros
Uses solar energy
Clear images and videos
Night vision Capability
Micro SD video storage and cloud storage
Pocket friendly
Easy to set up
Sensitive PIR Motion sensor
Cons
No removable battery
Can be tedious to recharge the batteries in the absence of sunshine. But again not a serious deal-breaker.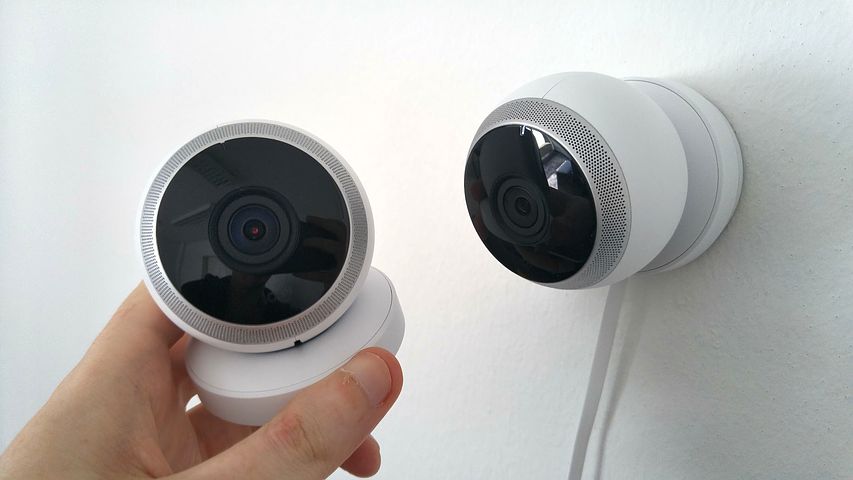 Final Word

An ideal wireless home security camera should indeed be completely wireless and offer unique related features just as its name suggests. Self-installed security systems are getting more popular, however, some manufactures take advantage of the name 'wireless' to capture your attention and make sales, only for you to end up disappointed.
Luckily, we have saved you the trouble of encountering such by reviewing the best wireless security cameras you can lay your hands on.
In case you choose to shop outside this list ensure that the camera you go for produces good quality videos, is easily accessible, is easy to set up and run.
Not to forget, any captured data should be adequately protected as some of it could be highly confidential or private. If all these factors check out, and the camera's price is just right, go ahead and grab it to seamlessly keep your home well secured.
We hope you found value and that on your next shopping trip, you`ll remember that the best wireless home security camera system reviews cover different aspects of camera shopping.